Adam Goodrum
A firm believer that every environment is defined by the objects within it, Adam Goodrum designs with the philosophy that an object must therefore justify its existence – through its story and detailing. For this reason, his designs celebrate process and craftsmanship, and accentuate components and joinery to create functional pieces with spirit and personality. In recent years, Goodrum's work has been awarded a host of design accolades including the NGV Rigg Prize, Vogue x Alessi Design Prize, Indesign Luminary Award and the Idea Awards Editor's Medal.
Achim Heine and Uwe Fischer
New + Featured Products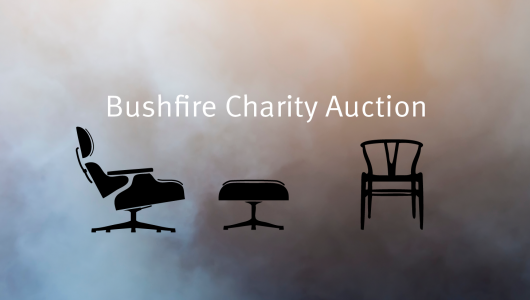 Auction to help Bushfire Affected
Well, what a way to start a year, spending our holidays glued to the TV watching bushfire updates and worrying about the welfare of friends and family in fire-affected areas.
As a member of the Canberra business community since 1991, we are all too familiar with the threat that fire poses to our local communities and to our native flora and fauna.
Having endured the terrible bushfires in the ACT in 2003, and having
The Cosm chair by Herman Miller has been dubbed "the pinnacle of personalisation" by TIME for its auto-harmonic tilt, intercept suspension, and more. We're excited that Herman Miller's Cosm chair by  Studio7.5 has been listed by TIME as one of the 100 Best Inventions of 2019.
CLICK HERE to read more about the TIME list and its curation of products, selected for making the world better, smarter, and more fun.
Photo: Stephanie Gonot
 
CLICK HERE to learn more
Our Brands
DESIGNCRAFT REPRESENT THE LARGEST RANGE OF AUTHENTIC AND ICONIC DESIGNER FURNITURE IN CANBERRA.
Furniture, lighting and accessory brands you thought you had to travel to Sydney to find. Dining, lounge, living, outdoor, office furniture, lighting and accessory brands such as;